Is a Neuropsychological Evaluation Right For Me?
The Stixrud Group, LLC provides neuropsychological evaluations for children, adolescents, and adults. Some reasons or circumstances in which it might be prudent to undergo a neuropsychological evaluation include:
Times of transition, e.g. to ensure proper academic placement and accommodations

Documentation for disabilities

Medical accidents, injuries, or illnesses that have psychological consequences

Lack of ease or discomfort in school, academic, or work settings

Referrals from physicians, medical professionals, and therapists (e.g., speech and langue therapists, occupational therapists, psychotherapists)

Need for information to guide occupational and career planning
Regardless of the reason, the goal of our evaluations is develop a holistic profile of an individual's capabilities, differences, and special needs so that proper decisions can be made and appropriate expectations developed. Our ultimate goal is to use our knowledge and professional skills to help people be more successful in school, in their careers, and/or in their relationships, and to remove any blocks to their experiencing happiness and fulfillment in life.
The Stixrud Group, LLC provide neuropsychological evaluations for children, adolescents, and adults.
Your first telephone call to the office will probably be answered by an administrative assistant who will:
First, collect some information including name, date of birth, address, and so on.
Second, schedule a telephone call, which is free of charge, between you and one of our Client Care Managers​ to discuss your interest in an evaluation. During this conversation you will have an opportunity to discuss your concerns about yourself or the person to be evaluated and ask specific questions regarding testing procedures, fees, payment and insurance. After the discussion the Client Care Manager will propose an evaluation schedule with the psychologist who best meets your needs. There is no obligation to book an evaluation.
Common questions answered during telephone consultation:
Which children, adolescents and adults would benefit from a neuropsychological evaluation?

When should my child be assessed?

How does a psycho educational assessment differ from a neuropsychological evaluation?

My child has already has a speech and language assessment. Would I learn anything new from a neuropsychological evaluation?

Are neuropsychological evaluations only for diagnosing LD and ADHD?

If my child takes medication, how will that affect the test results?

If my child is evaluated in your office, can s/he get testing accommodations for the SAT/ACT?

My child's pediatrician says s/he has Attention Deficit Hyperactivity Disorder (ADHD). Is there any point in getting a neuropsychological evaluation if I already have this diagnosis?

My child was recently evaluated by the local public school system, and we were told s/he does not have a learning disability; however, we are still concerned about his/her performance in school. Is it worth having a private neuropsychological evaluation?

How does the public school evaluation compare to a private neuropsychological evaluation?

If my child is evaluated in your office does the local public school system automatically accept the results and provide special education services?

How do I know when it's time for my child to be re-evaluated?

What kind of recommendations may I expect from the evaluation?

What kind of assistance may I expect with regards to follow up from your office?
At this point, we can schedule the evaluation, or under certain circumstances, refer you to another type of service. If you are not ready to schedule an evaluation at this time, we keep the paperwork on file for about eighteen months should you change your plans.
If your first telephone call to our office is directly to a licensed psychologist, he or she will return your call and give your name and telephone number to the administrative assistant who will also contact you to initiate the above sequence.
Please click here to access our Evaluation Process Flow Chart.
You can get started by contacting us.
Autism Spectrum Evaluation

Dementia and Brain Health

The Neuropsychological Evaluation
For adults, results from assessments are most frequently used to update documentation of a learning disorder for college, professional study, or licensing. The results can also be used to diagnose neurologically-based brain disorders and to help plan rehabilitation following a brain injury or a stroke.
For both adolescents and adults, results can contribute to planning career direction, higher education and training, vocational rehabilitation, and psychotherapeutic approach.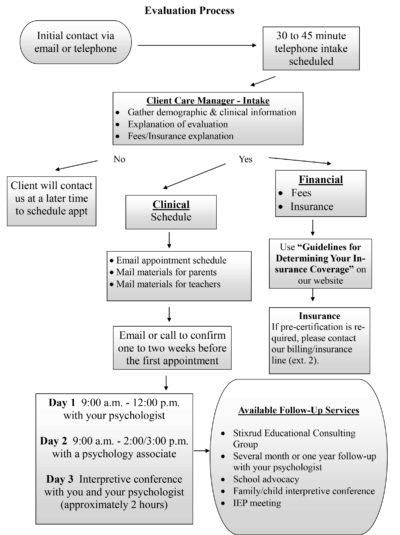 Contact and Location
Phone: 301-565-0534
Fax:301-565-2217
  OFFICE LOCATION
8720 Georgia Avenue,
Silver Spring, MD 20910